Recently, President Jokowi posted a photo of a beautiful mountain landscape in Papua. The Bintang Mountains are named, which will become a part of Trans Papua.
Viewed by AFP from his personal Instagram, Jokowi on Tuesday (07/30/2019) President Jokowi posted a photo of Pegunungan Bintang in Papua. But it seems, there is a mention in the post which is written 'Bintan Mountains'.
Where is the Bintang Mountains?
"The Bintang Mountains are the expansion of Jayawijaya Regency, the location is in the Central Highlands region or in the 'belly' of the island of Papua," said Chair of the Geological Engineering Study Program at Cendrawasih University, Marcelino Yonas St, M.Eng.
Marcel, as his nickname is added, is north of Pegunungan Bintang bordering Jayapura Regency and Boven Digoel in the south. Interestingly, the Bintang Mountains in the east extends to Papua New Guinea.
"Indeed, some districts in the Bintang Mountains are difficult to access so they have to take a chopper or plane. The existence of road access will connect the districts there," explained Marcel, who is also a native of Papua.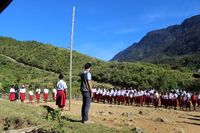 Life in one district in Pegunungan Bintang (Indonesia Mengajar)
As a geologist, Marcel explained that the Bintang Mountains have winding contours and challenging terrain. The height varies, from 400 to 4,000 masl.
"It is very challenging to build a road there. Look, the Central Mountains region is a fault line (shifting the Australian continental plate and the Pacific Oceanic plate in ancient times – red) and Pegunungan Bintang is one part of it. twisted, it can't be blown up and makes a tunnel," he explained.
What do you mean?
"Because of the fault line, the potential of the land to collapse is very high. Very high risk if you have to blow up the hill to make a road," explained Marcel.
"The Bintang Mountains in the southern part are relatively flat compared to the central part which is already mountain and hills," Marcel continued.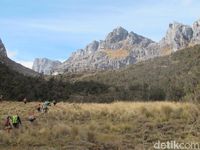 The series of Central Mountains in the 'stomach' of Papua (Afif Farhan / detikcom)
There is one interesting thing about the Bintang Mountains. Because it is a fault line, the Bintang Mountains are rich in mineralization aka rich in gold and petroleum potential!
"The 'Middle Mountain' stomach is very rich. We have checked sampling, there is indeed the potential for gold there," Marcel explained.
Marcel hopes that the construction of roads in Pegunungan Bintang can help the economy of the local community. Besides later, the government must also pay attention to the security factors there.
"We are very happy here with what Mr. Jokowi did for Papua. Hopefully, Trans Papua can be felt well by our community and of course the panorama is very beautiful," he concluded.
Source: detik.com