Taruna Kusuma Atmadja Pohan and Maulana Alfariski must travel long distances to get to Kudus, Central Java, to attend the 2018 Djarum Badminton Scholarship General Audition. Both come from the tip of the province in the country, namely Nanggroe Aceh Darussalam and West Papua, to fight with thousands of other participants in GOR Jati, Kudus.
Taruna boarded a bus with his father, Budiman Pohan, spending 12 hours from his hometown in Meulaboh, West Aceh, to Medan. Then the two proceeded on a plane to Semarang until they finally arrived in Kudus. While Maulana flew for approximately 5 hours from Timika, Mimika, Papua, then transit in Makassar, plus a land trip from Semarang to reach Kudus.
Previously, the two young badminton athletes in the age category of the U-13 sons had participated in the General Audition held by the Djarum Foundation Sports Foundation. Before being in Kudus, Taruna had participated in General Auditions three times, namely in Medan and twice in Pekanbaru. While Maulana, General Audition in Kudus this year was the second time for him.
"I have prepared physically and mentally. I also have to be enthusiastic, because I want to also follow my brother Ananda Kusuma Atmadja Pohan who has been in PB Djarum," said the young badminton who idolized Kevin Sanjaya Sukomuljo on Tuesday (4/9) morning at GOR Teak, Holy.
Meanwhile, Maulana came to Kudus with his family group to attend the General Audition in Kudus. A trip to the city which is known as the origin of a number of national badminton legends, is often used as a place for families. The father Muhamad Kafit is a native of Rembang who is a transmigrant family.
"I want to channel my child's potential through badminton. And this General Audition is the best opportunity to channel and develop Maulana's talents," said the man who works in the food stall in Timika.
Taruna and Maulana's struggle to reach and fight in Kudus is evidence of an annual program involving PB Djarum trainers and Indonesian badminton legends, triggering a positive interest from the community. PB Djarum, as a club that plays a role in the national badminton scene, has a commitment to continue to search for seeds and train badminton talent from an early age and is expected to become a future badminton star and maintain the chain of badminton achievements in Indonesia.
In order to get the seeds of the best potential athletes who will become the successors of the big names, PB Djarum fielded the Talent Search Team led by Christian Hadinata along with a number of Indonesian badminton legends and PB Djarum coaches, namely Tan Joe Hok, Liem Swie King, Fung Permadi , Basri Yusuf, Antonius Budi Ariantho, Alan Budikusuma, Denny Kantono, Hariyanto Arbi, Marleve Mainaky, Herry Iman Pierngadi, and Sigit Budiarto.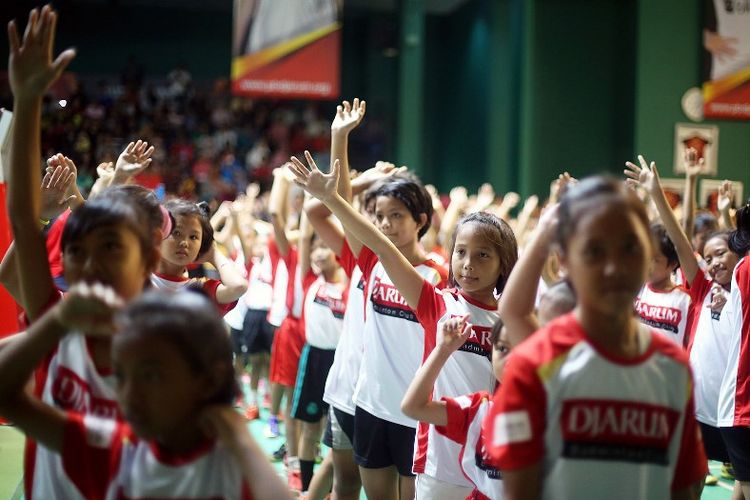 Djarum Foundation's Sports Service Associate Program Abraham Delta Oktaviari stated, as many as 1073 participants in the U-11, U-13 and U-15 age groups, who came from 25 provinces in Indonesia to attend General Auditions in Kudus this year. "Kudus is the 8th city of the General Audition this year. They come from various provinces in Indonesia to take part in the General Audition with the hope of becoming PB Djarum athletes. Surely this is good news for us," he explained.
"With the number of participants penetrating up to 1073 participants, for us it is proof that badminton fire in Indonesia never dies," Abraham added.
The screening process begins with the Screening Stage on Tuesday, September 4, 2018. In this phase, each participant from his age category competes for about 10 minutes before the Talent Search Team. Those who passed the Screening Stage then advanced to the Tournament Stage which was held for two days, namely Wednesday, September 5 2018 and Thursday, September 6 2018.
Participants who pass the Tournament Stage will get Super Tickets to advance to the Final Audition round which is also held in Kudus, on 7-9 September 2018. Super Ticket is not only given to those who pass the tournament, but also for participants who do not qualify for the tournament but are considered Talent Search Team has a talented talent.
The 2018 Badminton Djarum General Audition can be attended by Indonesian male and female athletes with U11 categories (aged 6-10), U13 (for participants aged 11-12 years), and U15 (for participants aged 13-14 years). Auditions will be carried out in the form of a knockout competition.
Registration can be done online through the website www.pbdjarum.org or by registering directly a day before the General Audition is held at GOR for each audition city. Participants are required to register again one day before the selection stage (H-1) according to the city of their chosen audition.
Source: https://olahraga.kompas.com/read/2018/09/04/19374308/dari-aceh-hingga-papua-berlaga-di-kudus