Since Litthasova still has a strong desire to win the Asian Games gold medal. (CNN Indonesia / M. Arby Rahmat Putratama H).
Both eyes of a West Papuan dragon boat athlete, Since Lithhasova Yom, sparkled the sign that emotion had won the fourth silver medal during his career at the  Asian Games on Saturday (25/8).
Since and her friends managed to donate a silver medal in the 200 meter princess dragon boat number 
2018 Asian Games
 . They recorded a time of 56.817 seconds or 0.656 seconds adrift of China who won the gold medal.
Yes, Since it may be said that a silver medal specialist is. Since the 2010 Asian Games in Guangzhou, China, she has never felt a gold medal.
At the 2010 Asian Games, Since won three silver medals. The three medals were won in the women's dragon boat number 250 meters, 500 meters and 1,000 meters. The gold medal of the three numbers was won by the Chinese team.
Although the trend of the silver medal continued until the 2018 Asian Games in Palembang, Since Since then, it has remained proud. One thing is certain, she won the medal with full struggle.
"For the 2018 Asian Games it is very heavy, in my life it was very difficult. In 2010, we lost to China," Since said with a slightly annoyed tone because she lost to China.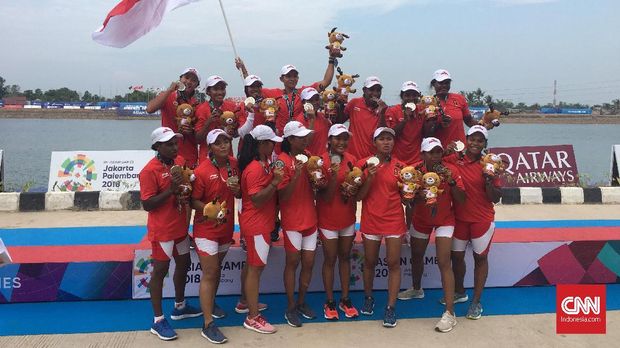 The 2018 Asian Games Medal is the fourth silver for Since at the Asian Games. (CNN Indonesia / M. Arby Rahmat Putratama H)
"I offer this medal for parents and Indonesia," she continued.
In addition to going down to the 200-meter dragon boat number in the 2018 Asian Games, Since also played at 500 meters. However, he failed to contribute a medal and again lost to China who won the silver medal.
"We have tried as much as possible, but maybe God has not ruined our efforts. But we remain grateful whatever the results, that is what we can give. But we are not discouraged because we are indeed targeting silver at 200 meters," Since said.
For 2018 Asian Games, Since practicing very hard. She sighed deeply before expressing how hard she was preparing for the biggest sports tournament in Asia.
"One day four exercises from six o'clock in the morning, 10 am, two in the afternoon, and in the afternoon. Two hours each. I have only one day off on Monday," said the 26-year athlete.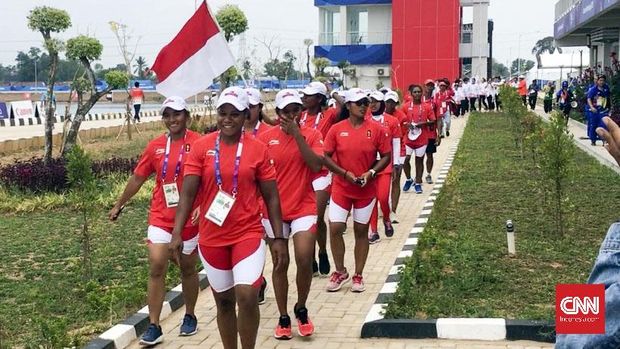 Indonesian dragon boat team at 2018 Asian Games. (CNN Indonesia / Arby Rahmat Putratama)
"Why is the holiday not Sunday? Because if on Monday, to be able to go anywhere without getting stuck," he added.
Since she claimed to have started learning dragon boat sports since 2008. Initially, she said she was 'forced' by her family to study the sport.
"But over time, I like it until now, and this sport changes my life," she said.
'Do not be discouraged.' That is the message that Since I want to convey in achieving the highest performance in sports.
Many times losing to China does not make her desperate. On the contrary, Since she is increasingly eager to win a gold medal.

"Oh yeah, I still want to win a gold medal at the Asian Games. I target giving gold, from myself I want to give gold. So maybe there are still one or two more Asian Games to win a gold medal," said Since.
If it is true that Since still surviving on the Indonesian dragon boat team, then she will compete in the next two Asian Games editions. Even so if the dragon boat is competed in the Asian Games in the future.
The 2022 Asian Games will be held again in China, but this time in the city of Hangzhou. While the 2026 Asian Games are held in Nagoya, Japan.
"I have never been passionate, just curious [to win a gold medal]. It's been as hard as this effort is still silver, maybe our training is less hard," she said sadly.
However, the Asian Games gold medal is not the biggest dream of a Since. "My biggest dream is to make my parents happy," said Since.